Hull Telecoms offer a comprehensive range of telecommunication technologies for businesses of any size. With experience from the Enterprise sector, we tailor the right solutions for each customer,  improve efficiency, reduce costs and increase revenues. With Hull Telecoms cloud and on-premise Phone System, we can help you simplify communication.
Business Mobile, & Handsets
Data Services, Lease lines, & Broadband
Phone Lines, Phone System, Calls, SIP and Numbers
CCTV, ANPR, Door Entry, Access Control Services
Hull Telecoms Telephony Platform
Hull Telecoms Cloud Phone System (PBX):
Save up to 70% on traditional Business Phone Lines. No Fixed Contract and provided as a Monthly Subscription Service. Hull Telecoms Phone System can be hosted in your office or in the cloud. Low Cost Call rates, local & International. Secure Web-Based Portal allowing User Management. Mobile device application for when you are on the move. Voicemail to email service provided.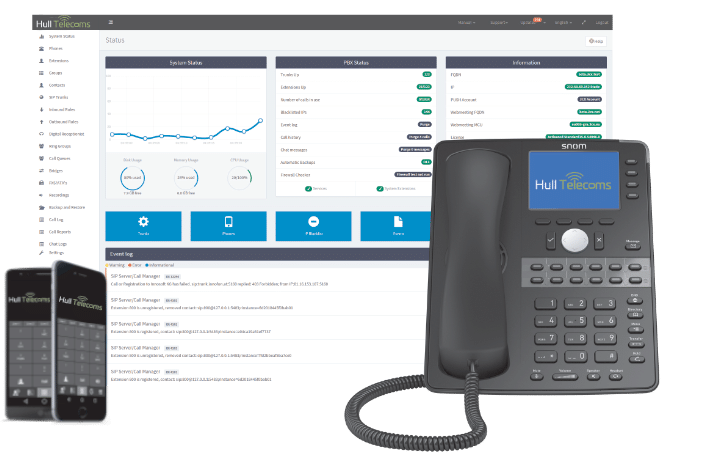 As an leading specialist located in the North of England. Hull Telecoms support businesses in finding the right communications solution. We offer wide range of services & technologies. Services include Internet connectivity, telephone systems, business mobiles, CCTV security systems, and cable infrastructure. Whatever your needs, our team are happy to help.
Reduce Your Bill
We can help you start saving money straight away. Even if you are in contract with an existing supplier. As part of a FREE Mobile and telecoms audit we will analyse your bills and recommend changes to tariffs, supplier or service.
Book your Free Audit
Broadband and Fibre
As a Wholesale provider and installer of Telephone lines and other connectivity throughout the UK. Hull Telecoms can offer Install Services including wireless broadband, 3/4G Mobile Connectivity and fibre connections.
Request More Information
Cheaper Lines & Call Packages
Our customers save a minimum of 40% when switching to our telephone lines, Phone Systems and calls packages. This saving is calculated based upon combined line rental and call charges, with some customers saving more than 70%.
Request More Information
Managed Mobile & Device Management
Manage and track your mobile devices. Our team complete Monthly bills reviews ensure we can identify potential savings. We also offer a managed mobile management service. This allows devices to be managed. We monitor and control/track staff usage, restrict social media access. We also offer a find a lost device service and protect or delete sensitive information carried.
Request More Information